Team OC Fun Launches New Site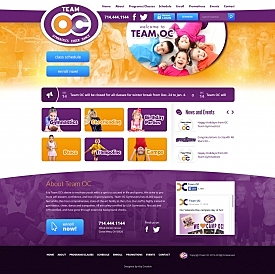 Team OC opened in November 2006 as one of the largest, most comprehensive gymnastics, cheer, dance and trampoline training facilities in Southern California. This premier facility is staffed by friendly, experienced professionals who are dedicated to educating children in sports and performing arts. Team OC has a lot to offer families, including parent and child developmental classes, boys and girls recreational classes, competitive teams, seasonal camps and birthday parties.
Mission
Team OC's commitment to the community is to provide a positive, safe and fun learning environment for each and every child to whom we teach gymnastics, cheer, dance and trampoline. It is our desire to motivate youth with a spirit to succeed in life and sports. We strive to promote self-esteem, confidence, love of sports/activity and the quest to turn dreams into accomplishments.