New Look for Roots Gymnastics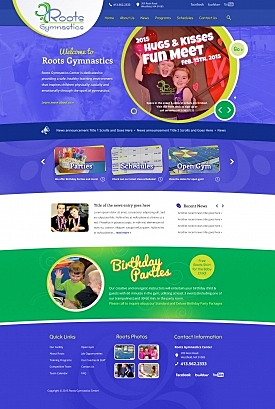 Roots Gymnastics Center is dedicated to providing a safe, healthy learning environment that inspires children physically, socially and emotionally through the sport of gymnastics. Their goal is to help each child discover the joy of physical fitness in order to establish the roots of healthy living.
Goals & Vision
Roots Gymnastics is family owned and operated by Pam and Steve Pryor who share a consistent vision about the business. "We believe gymnastics programming offers the baseline for development in all sports by teaching participants the foundations of coordination, strength, agility, flexibility, balance and general fitness. The best part is that it is all accomplished in a safe and fun environment that follows a professional curriculum specifically adapted to meet the needs of our customers. Our goal is to foster an atmosphere of learning and development to help plant the seeds for healthy bodies and minds."