JAG Gym's Website Gets a Makeover!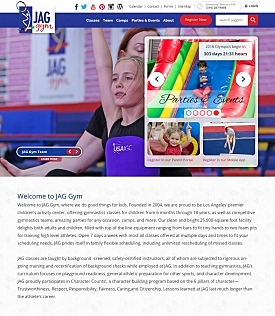 ABOUT JAG GYM:
As a child, JAG President/Founder Anne Josephson grew up in a gym that taught her far more than gymnastics. Her gym was an extended family and gymnastics was not just a sport but also a tool to teach valuable life skills and lessons. That is what Anne envisioned for JAG when she opened its doors in the fall of 2004: a facility where all would be treated with dignity regardless of ability, where families would find a community of caring professionals working with their children and a gym where kids fell in love with gymnastics and felt valued for who they are, not what they did. Taking her experience as a gymnast, coach, judge, mother of four and a M.S. Ed. In Educational Psychology, Anne brings all of these perspectives together to form the vision that is JAG.
Since that opening day, JAG grew from a gym club of three students to one serving over 2000 families per week. While much has changed and grown since JAG's opening in 2004, one thing remains true: We do good things for kids. Our unique curricula, our accomplished and educated staff, an amazing facility and innovative, progressive and educational sound thinking make JAG unlike any other gymnastics school in the country. We all are truly proud to be a member of the community and family that Anne dreamed of building.